Photo by Alex Greenspan
News
May 2018: CHI Papers
We will present three papers on code examples, API visualization, and spatial awareness aids at CHI 2018 in Montreal.
October 2016: Three UIST Papers
Our group presented papers on VidCrit (video review), Toastboard (circuit debugging), and DemoDraw (motion illustration) at UIST in Tokyo.
September 2016: Faculty Director
I am now the Faculty Director of the Jacobs Institute for Design Innovation.
May 2016: Teaching Award
I received this year's Jim and Donna Gray Faculty Award for Excellence in Undergraduate Teaching from UC Berkeley's CS Division.
May 2016: Best Paper Awards at CHI 2016
Our work on multi-device storyboards received a Best Paper Award at CHI 2016, and our Drill Sergeant extended abstract received a Best Late Breaking Work Award.
April 2016: Interim Director of Jacobs Institute
I was appointed Interim Director of the Jacobs Institute for Design Innovation at UC Berkeley while we search for a permanent successor to David Dornfeld, who passed away unexpectedly at the end of March.
November 2015: Baby!
Welcome Harlan Johann Hartmann
October 2015: Honorable Mention Award
Our work on Tutorons receives an Honorable Mention Award at VL/HCC
August 2015: Jacobs Hall opens
The new home of the Jacobs Institute for Design Innovation opens its doors.
August 2015: Article on Interactive Seating Class
Berkeley Engineering: New course models design innovation education
August 2015: Flashback to a prior career
Guest DJed with DJ Noon on Berkeley's KALX radio.
June 2015: Tenure!
I was promoted to Associate Professor with Tenure effective July 1, 2015.
June 2015: EICS Best Paper Award
Will McGrath presents our fabryq platform for Bluetooth Low Energy prototyping at EICS in Germany and wins a best paper award.
May 2015: Berkeley Engineer Story
I'm featured in a story in the Berkeley Engineer magazine.
May 2015: Teaching Award
I received the Computer Science Divison's Diane S. McEntyre Award for Excellence in Teaching.
Contact info
Office: 220A Jacobs Hall
Berkeley, CA 94720-1760
Office Hours: Fall'17: Thursday, 3-4pm
bjoern@eecs.berkeley.edu
t: @bjo3rn, p: +1-415-868-5720
Admin: Aleta Martinez, aleta@berkeley.edu
RSO: Miriam Kader, mkader@berkeley.edu
Materials
Curriculum Vitae, Recent Talk Info
Archived Faculty Application Materials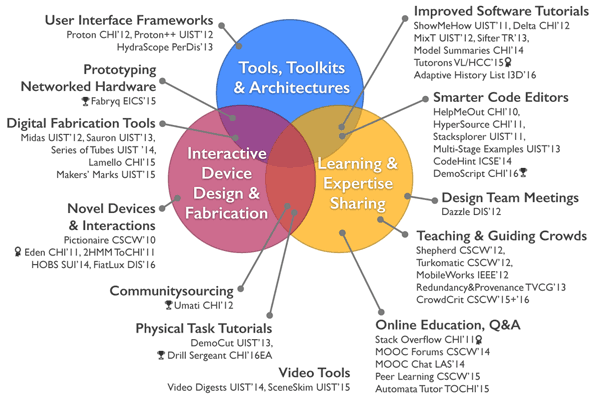 I am an Associate Professor of Electrical Engineering and Computer Science at the University of California, Berkeley. My research in Human-Computer Interaction focuses on novel design, prototyping, and implementation tools for the era of post-personal computing. My group investigates how better software and hardware can facilitate the exploration of interactive devices that leverage novel form factors and technologies (e.g., sensors and actuators). We also investigate how software can help students, designers, and makers to learn and share their expertise online. Methodologically, my group predominantly focuses on systems research: we contribute complex, working interactive systems that embody our research ideas and enable us to test specific hypotheses. However, I also appreciate (and we conduct) careful, controlled experiments. I am a Qualcomm Faculty Fellow and have received an NSF CAREER award, Sloan fellowship, and Okawa research award. My group predominantly publishes at the top HCI conferences UIST, CHI and CSCW. We also publish in more topic-specific venues like DIS, ICSE, VL/HCC, and Learning@Scale. Our work has received multiple best paper prizes at these conferences.
I am the Faculty Director of the Jacobs Institute for Design Innovation, a new undergraduate teaching institute focused on hands-on, human-centered design. Previously, I co-founded the CITRIS Invention Lab, a lab equipped with many digital fabrication and rapid prototyping tools. The lab serves as inspiration and testbed for many our research projects. I am also involved in the Berkeley Institute of Design and the Swarm Lab. I spend time with great colleagues at the Berkeley Center for New Media, and the Visual Computing Lab. I received my PhD from the Stanford Computer Science department in 2009 where I worked with Scott Klemmer (dissertation). I received an MSE in Computer and Information Science as well as Undergraduate Degrees in Digital Media Design and Communication from the University of Pennsylvania in 2002.
Thinking about applying for a PhD/Masters/Internship/PostDoc in HCI at Berkeley?
Do not email me directly about your application or request - I cannot respond to every message. Read this advice instead.
I am looking for strong PhD and postdocs students in the areas of programming tools, programming education, design tools for digital fabrication, and IOT systems. Berkeley's graduate application deadline is 15 Dec 2016. Postdoc candidates should get in touch with me directly via email. If you are from Germany, you can apply as a DAAD-sponsored postdoc working with me through ICSI.
Undergraduate Cal Student interested in (Interface) Design?
The Course Thread in Human-Centered Design which I co-initiated lists relevant courses across the university as well as reading materials. You may also want to get involved in Berkeley Innovation, a student-run design group. In Computer Science, you should take CS160. If you did well and want to deepen your understanding of HCI research and practice, sign up for CS260B or CS294-84 (Interactive Device Design). If you have completed either of these courses with outstanding results, come to my office hours to talk about undergraduate research opportunities. You can also look for projects my group has posted on Beehive.