Other Interests
Historical Military Fiction
My favorite authors are Bernard Cornwell (Sharpe the Rifleman Series), Alexander Kent aka Douglas Reeman (Richard Bolitho Series), Dudley Pope (Ramage Series), but most especially Patrick O'Brian (the Aubrey/Maturin Series -- I started reading them in about 1990 based in an article in the NY Times Book Review). C. S. Forester (the Hornblower Series) and George MacDonald Fraser (the Flashman Series) fall into this category.
Other Reading Interests
I also enjoy reading about science, technology, technology policy, science-in-fiction (but not really science fiction), politics, diplomacy, and world affairs. I am an avid reader of the Economist Magazine, Foreign Affairs, and the New York Times.
I am currently working my way through Proust's Rememberance of Things Past all too slowly. This was prodded by reading a wonderful (short) book by Alain de Botton entitled "How Proust Can Change Your Life." It hasn't happened yet.
I order too many books from amazon.com. I also order from Hatchard's Bookstore in Piccadilly London.
Reading Books
"'Sir,' said Stephen, 'I read novels with the utmost pertinacity. I look upon them--I look upon good novels--as a very valuable part of literature, conveying more exact and finely-distinguished knowledge of the human heart and mind than almost any other, with greater breadth and depth and fewer constraints.'"--Patrick O'Brian, The Nutmeg of Consolation.
"It is not true we have only one life to live; if we can read, we can live as many more lives and as many kinds as we wish."--S. I. Hayakawa.
Border Terriers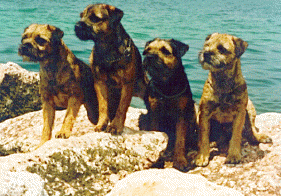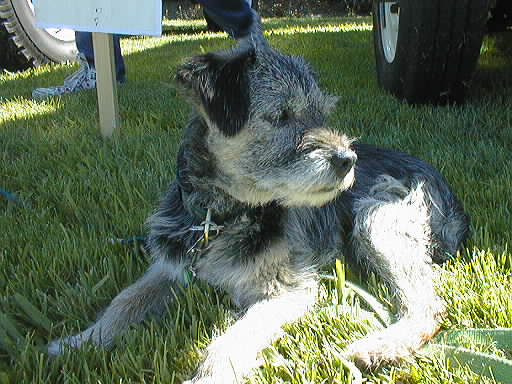 Wonderful little dogs. Alas, Rough N' Ready Annie Laurie has gone to that Dog Park in the sky. Good links start with this one.
Toy Soldiers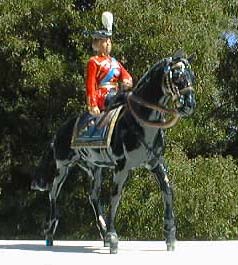 I collect toy soldiers, especially those from Britain's, Traditions, and Wm. Hocker (of Berkeley!--Works out of a little garage near the corner of Spruce and Cedar Streets). My particular interests are in the Napoleanic Era and Queen Victoria's Little Wars.
Follow this link to see some of my collection on-line (warning: long download time!). I have an incomplete annotated collections page, which I will work on some more when I have the time.
Randy's Landie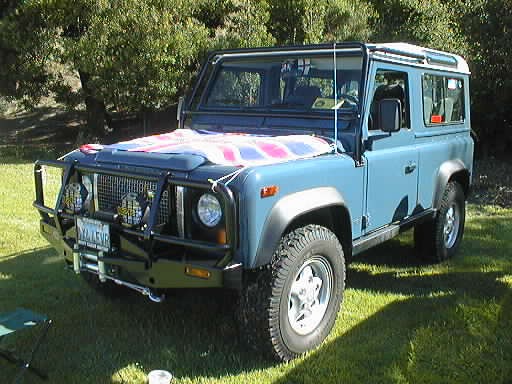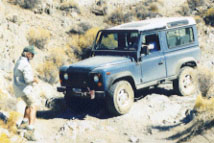 Here is my Land Rover page. I love my Defender 90 "Winnie"!
Aviation History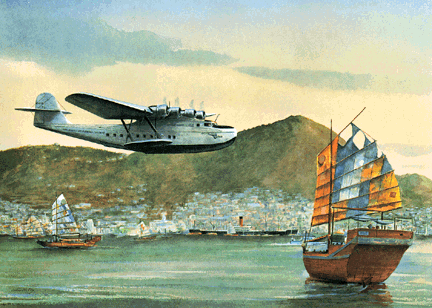 I am fascinated by the early days of commercial aviation, in particular, the Pan American Airways China Clippers (1935) that flew from San Francisco's Treasure Island to Hong Kong via Hawaii, Midway, Guam, Manila, and Macao in something like nine days. Click here for a web site with some great photographics from that era. The original clippers were Martin M-130s, replaced by the Boeing B-314 in 1939.
It is possible to fly in a WWII era DC-3 from Oakland Airport owned by Otis Spunkmeyer. Apparently there really is a person with this name, and he owns a cookie empire. Beautiful scenary in this fly-over of Oakland, Berkeley, San Francisco, and Marin. Highly recommended!
San Francisco Opera
What other form of entertainment uses a full orchestra, cast, and staging, lasts for three-to-four hours, costs a bundle, and still the tickets are hard to get? There is nothing like a great aria or duet to get me writhing in ecstasy! Click here for the S.F. Opera web site.
Other Musical Interests
Baroque Music, Mozart Operas, Schubert Chamber Music and Lieder, Philip Glass, Ella Fitzgerald, Big Band, Swing, Celtic, and Folk.
---
Last updated: 4 August 2004; Randy H. Katz, randy@cs.Berkeley.edu