The following is a slide presentation given by Changhyun Kim of Samsung Electronics on Basic Dram Operation. Also included are two slides from his ISSCC presentation on a 1-GB DRAM. A summary of the key points is included throughout the slides.
---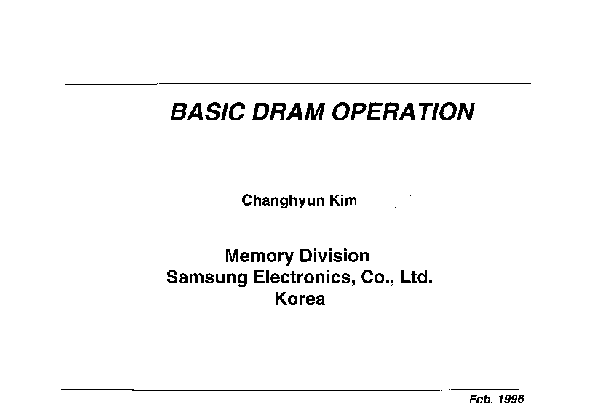 ---
---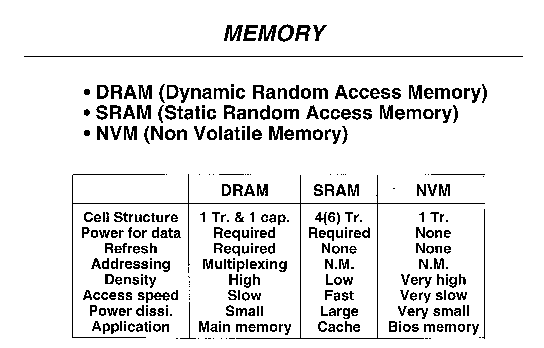 Multiplexed addressing contributes to the slowness of DRAM.
Power dissipation in SRAM is large because of faster access.
Typically, the better performance you have, the higher the power requirement.
The power loss in an SRAM due to leakage current is significant, at 1 nA.
---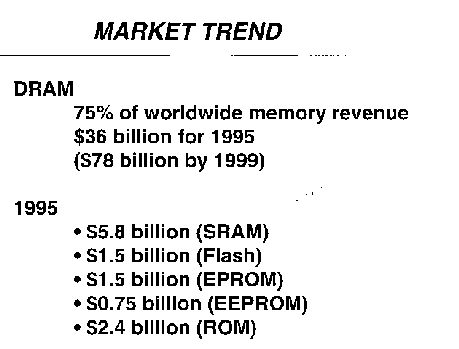 The cell type used in DRAM is company dependent.
The 25-30 fF capacitance value is a rule-of-thumb value, valid across all generations.
One can increase the capacitance with a change in the dialectric. (Ta2O5 yields a higher capacitance.)
A trench cell is good for smaller packaging.
A trench cell is also susceptible to noise from the substrate.
Logic consumes a lot of power and injects noise into the substrate, and this could be bad for trenched cells.
The stacked cells can be affected by noise in the upper layers.
Stacks are more popular and are easy to make small.
Stacks are easier for Samsung to build than the trench.
The stack lends itself well to mass production.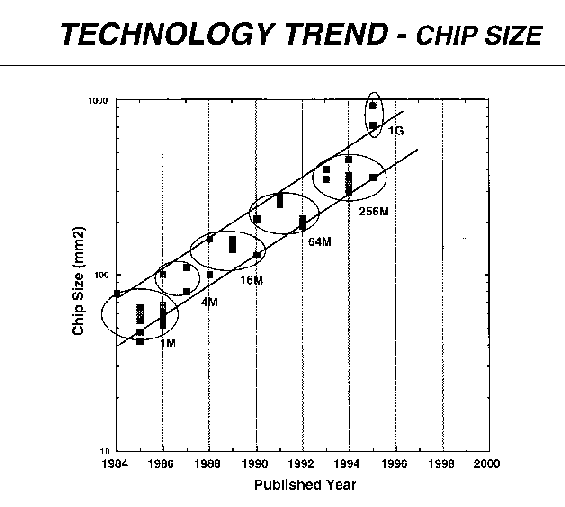 ---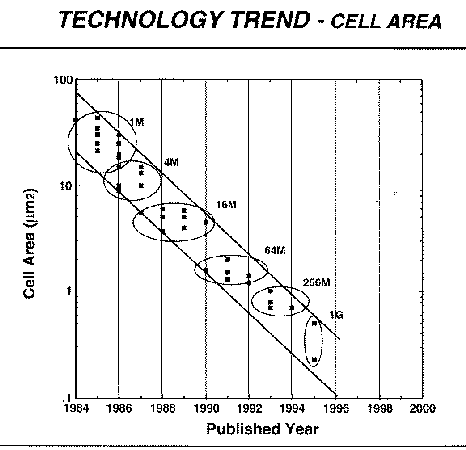 The new 1 GB chip from Samsung is 652 mm2.
---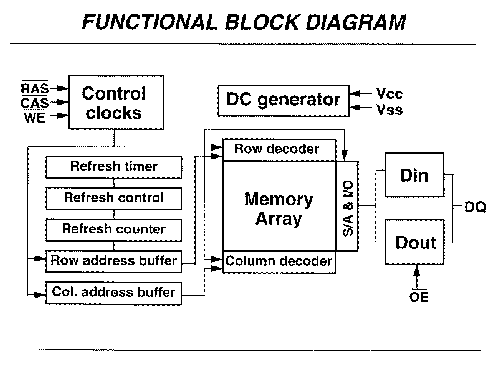 The new 1 GB chip from Samsung is .2 um2.
---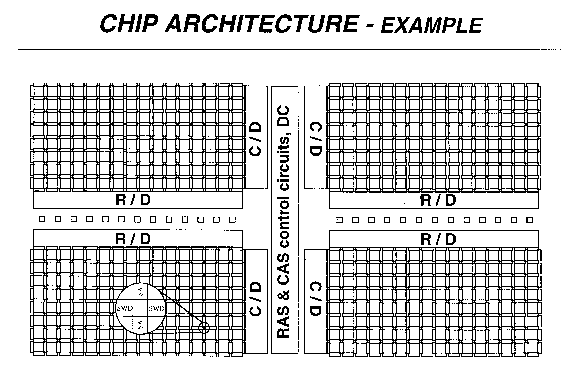 Many DRAMs operate at 5 V off chip, and at 3.3 V for internal chip operation.
The 1 GB DRAM from Samsung used 1.8 V for the memory array.
The 16 MB and 64 MB DRAMs use 3.3 V, internal 2.5-2.6 V.
The location on the bonding pad varies with company.
Data lines run perpendicular to the bit lines. Multiplexing is done at the sense amps, and only a few data lines emerge from a whole row of sense amps.
---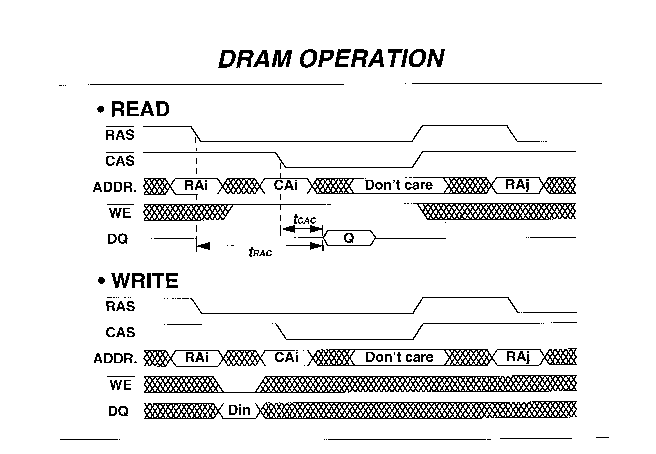 During write enable, between row and column address, we keep data in a buffer.
How many I/O lines do we need? This depends on the refresh time and how many I/Os we have.
---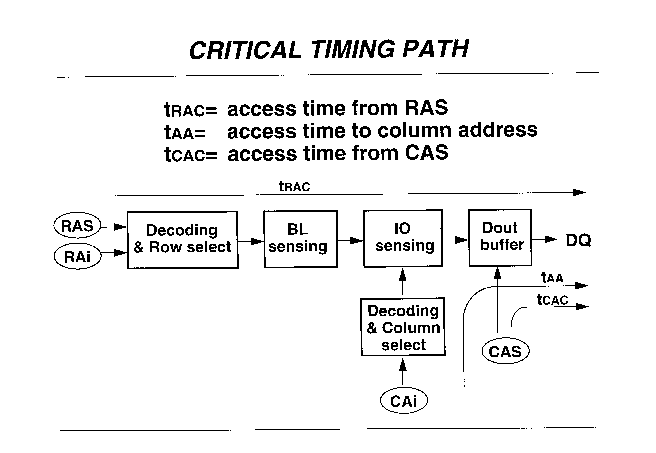 tRAC : 50-60 ns (worst case), 30-40 ns (best case)
tAA : 20 ns
tCAC : 10 ns
Bit Line sensing takes the most time.
tRAC for the 1 GB Dram is 31 ns.
Eliminating driving the data off-chip could eliminate 5ns from critical path.
These times are technology dependent.
Slower SRAMs have 20 ns access time, so a fast DRAM could be compatible with a slow SRAM.
A DRAM without a muxing scheme could have the same performance as an SRAM.
Packaging size of SRAM to DRAM is 5:1 because of more I/O on the SRAM.
---
.5*VCC used for bitline voltage precharge
The bitlines diverge by ~ 200 mV, depending on the power supply voltage.
Delta(V_bc) = C_s/(C_b + C_s) where C_b is the bit line capacitance
It doesn't matter whether you turn on SAN before SAP when alternating bitlines.
Aluminum is used to run the I/O out. Choose the metel depending on the process.
It is possible to run more I/O over the data cells.
---
---
---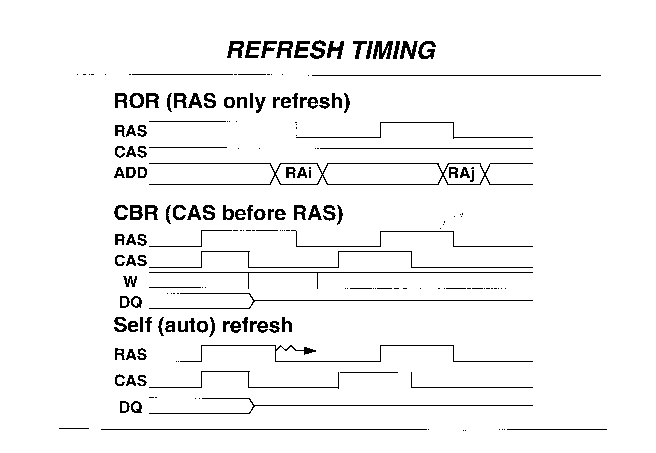 ---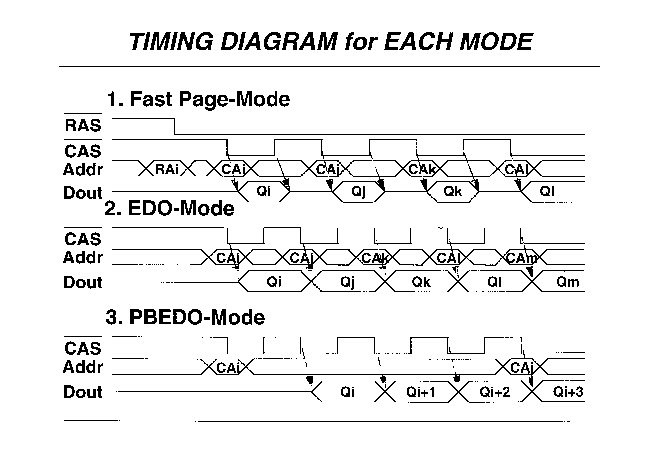 ---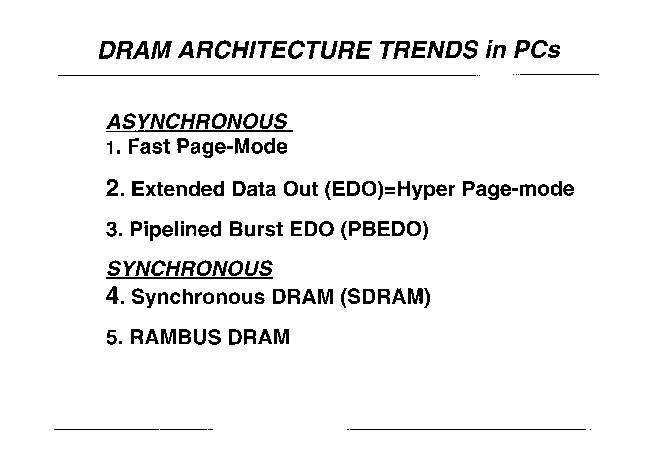 EDO Mode => We can reduce CAS cycle time because the Data Out Hold Time is longer.
EDO => 50 MHz
PBEDO => Higher clock rate (50-60 MHz)
FPM => 31 - 33 MHz
---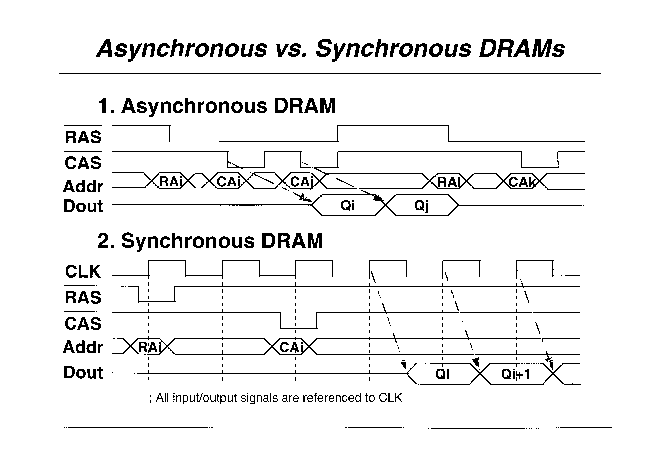 ---
---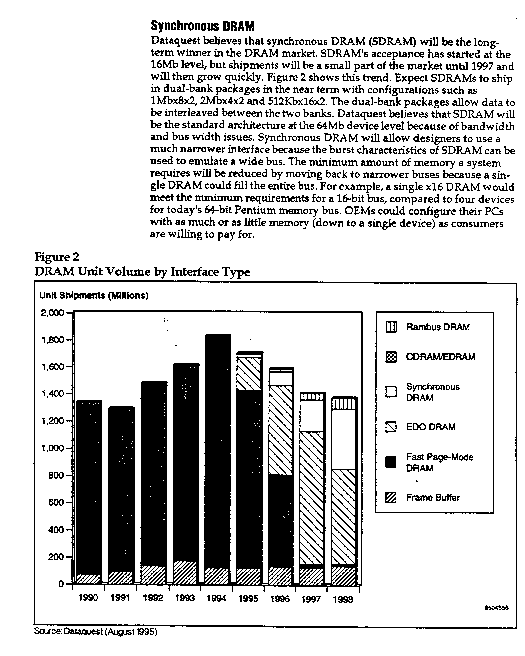 ---
A lot of delay is due to transistor driving capability.

---

OCS cell => one cylindrically stacked cell
OCS cell area is .334 um2.

---

The package size for the 1 GB DRAM is 2 cm x 3 cm.

---

Closing Remarks

The substrate can be biased in order to get a higher threshold voltage. The 1 GB DRAM is biased to -1 Volts. Others are commonly biased to -2 or -2.5 V.
The dominant leakage problem is increasing substrate leakage with higher densities. Junction leakage depends on the process.
A current sense amp is slightly faster than a typical voltage sense amp.
The simplest sense amp is 4 transistors. A current sense amp is 6 transistors.
For high loading, we use a current sense amp.
If we double the I/O lines, we get double the bandwidth. There is no need to change the design, but the more I/O lines we have, the greater the noise and power consumption.
One of the worries in adding logic to a DRAM is power consumption. Logic has a lot of power and makes a lot of noise. DRAM is very susceptible to noise. There is also the issue of process compatibility.
Embedded logic in DRAM would be good for high performance chips.
SRAM is more compatible with a logic process.