Professor Ahmad R S Bahai
Professor of Electrical Engineering.
<![if !vml]>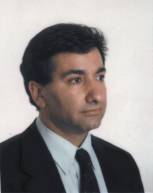 <![endif]>
Research Areas
<![if !supportLists]>· <![endif]>Wireless Communications
<![if !supportLists]>· <![endif]>VLSI for Mixed signal
<![if !supportLists]>· <![endif]>Adaptive/mixed signal processing
Specific Research Interests
- Statistical Signal processing in wireless communications
- Algorithm specific VLSI design
- Wireless sensor networks
- Adaptive algorithms and processor design
- OFDM techniques for 4G Communications systems
Recent Publications (2003/04)
- Complexity Based Design for Iterative Joint Equalization and Channel Coding   comp.pdf
- Effect of Frame Synchronization Error in OFDM sync.pdf
- A New Approach for Evaluating Clipping Distortion
  in Multicarrier Systems  clipping.pdf
- Blind Maximum Likelihood Channel and Data Recovery in OFDM BML.pdf
- Iterative Decoding and Blind Channel Estimation for Coded OFDM iterative.pdf
- Turbo Coding Performance in OFDM Packet Transmission
- A LMS Approach to Channel Identification and Equalization in OFDM LMS.pdf
Office:
            #511 Cory Hall
            Berkeley, CA 94720-1770
Phone:
     (510) 643 0155
Email:
     Bahai@eecs.berkeley.edu
Biographical sketch
Dr. Bahai received his MS degree from Imperial College, University of London in 1988 and Ph.D. degree from University of California at Berkeley in 1993, all in Electrical Engineering. From 1992 to 1994 he worked as a member of technical staff in the wireless communications division of TCSI. He joined AT&T Bell Laboratories in 1994 where he was Technical Manager of Wireless Communication Group in Advanced Communications Technology Labs until 1997. He was involved in research and design of several wireless standards such as PDC, IS-95, GSM, and IS-136 terminals and Base stations, as well as ADSL and Cable modems. He is one of the inventors of Multi-carrier CDMA (OFDM) concept and proposed the technology for high speed wireless data systems. He was the co-founder and Chief Technical Officer of ALGOREX Inc. and currently is a Fellow and the Chief Technologist of National Semiconductor http://www.national.com/. He is an adjunct/consulting professor at Stanford University and UC Berkeley. His research interest includes adaptive signal processing and communication theory. He is the author of more than 50 papers and reports and his book on "Multi-carrier Digital Communications" is published by Kluwer/Plenum. Dr. Bahai holds five patents in Communications and Signal Processing field and served as an editor of IEEE Communication Letters.