Teaching Tips, Best Practices, and Other Initiatives to Improve CS Education
Daniel D. Garcia
University of California, Berkeley
ddgarcia@cs.berkeley.edu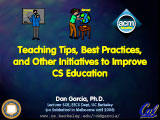 PPT (12 MB), PDF (3 MB), 6-up PDF Handout (1 MB)
2007-10-16 @ 12:00 - 13:00 EST
University of Melbourne
Theatre 3 (Room 2.05) ICT
111 Barry St, Carlton, AUSTRALIA
2007-11-12 @ 15:00 - 16:00 EST
La Trobe University
PS1 221 - SEMS Mtg Rm
Beth Gleeson building, Bundoora, AUSTRALIA
2007-11-16 @ 14:15 - 15:30 EST
Deakin University
Fourth Melbourne Computing Education Conventicle (MCEC2007)
Richard Searby Room, Burwood, AUSTRALIA
2007-11-28 @ 14:00 - 15:00 EST
RMIT University
School of Business Information Technology
Building 108, 239 Bourke St, Melbourne, AUSTRALIA
Abstract
This talk will bring together the common themes of three presentations at SIGCSE earlier this year aimed at improving computer science education.
A collection of great (but often overlooked) teaching tips
The best practices learned from surveying the introductory courses at the top 25 CS programs in the US
The recent activities of the ACM Education Council, specifically addressing the CS enrollment crisis and providing technology resources for educators.
Attendees are encouraged to bring their own teaching tips to share, as well as any "Big Ideas" for improving computer science education globally.
References
Garcia, Daniel D.; Astrachan, Owen; Parlante, Nick; and Reges, Stuart. Teaching Tips We Wish They'd Told Us Before We Started (Panel), SIGCSE 2007, Covington, KY, March 7-10, 2007.
Forbes, Jeffrey; and Garcia, Daniel D. ...But What Do the Top-Rated Schools Do? A Survey of Introductory Computer Science Curricula (Special Session), SIGCSE 2007, Covington, KY, March 7-10, 2007.
---
Dan Garcia (ddgarcia@cs.berkeley.edu)